Local Dog-Friendly Activities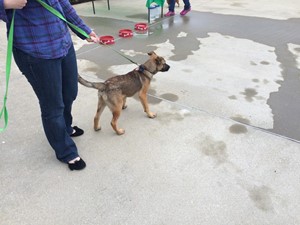 Summer days are here for a few more weeks, and we know you want to make the most of this beautiful season and get outdoors with your best friend whenever possible. If you've grown tired of walking the same trails and hitting the same dog parks, it may be time to mix up your acitivities and try something new for both you and your pup.
Williamsburg is a pet friendly city filled with outdoor opportunities for you and your pet to enjoy. Whether you prefer to sidle up to the bar with your best friend or explore American history with your on-leash pup, you can get out with your pet with no problems.
Your beautiful neighborhood is just a short drive from some of the area's best activities for you and your furry friend to enjoy together. If you're new to town, or just looking to shake up your dog's social schedule, you've come to the right place. We've found a list of local, dog-friendly activities that you and your four-legged friend can get into all summer long…
Try a New Dog Park
We know your best bud needs to get off leash and run free with his furry friends from time to time (hey-so do you, right?), but finding a safe, comfortable and friendly dog park can seem daunting. Waller Mill Dog Park in Williamsburg is relaxed, fun and friendly, and has the bonus of being securely fenced in. Owners can sit comfortably on benches and chat, and small dogs can roam freely in their own separate, small dog area (that's a relief!). The large dog park sits on 1.5 acres of territory with shady trees and an agility course, and owners will enjoy a laidback attitude and a not-too-crowded environment.
Explore American History
Leash up Fido and head out for adventure in historic Colonial Williamsburg. Explore the country's largest living history museum with your best friend (dogs are allowed throughout all of Colonial Williamsburg) and even take the shuttle together from the Visitor Center for convenience on hot days. You won't be able to bring you pup inside any of the buildings, so bring along a human friend who may be able to hang with your dog outside while you venture in.
Grab a Beer With Your Best Friend
Craft brew fans, grab your furry sidekick and head to Hair of the Dog Bottle Shop for samples, tastings and tours. When the heat becomes unbearable, Fido and you will enjoy cozying up inside for cool brews and best friend time. While your dog won't be able to imbibe, we're pretty sure the two of you will enjoy relaxing in the laidback environment at Hair of the Dog with their friendly staff and quality brews.
Wander Historic Jamestown
Leash up your best bud and plan to spend a weekend afternoon wandering the footsteps of Native Americans and the first settlers in Historic Jamestown. You can take a walking tour with a park ranger, explore natural and preserved environments and witness the excavation site of James Fort. History buffs will love sharing American history with their furry friends, and dogs will love the natural and untouched landscapes.