Room To Spare: The Colonnade's Bonus Room
The two bedroom Colonnade floorplan is one of our most coveted floorplans at Monticello at Powhatan, and not just because it features a functional, open layout,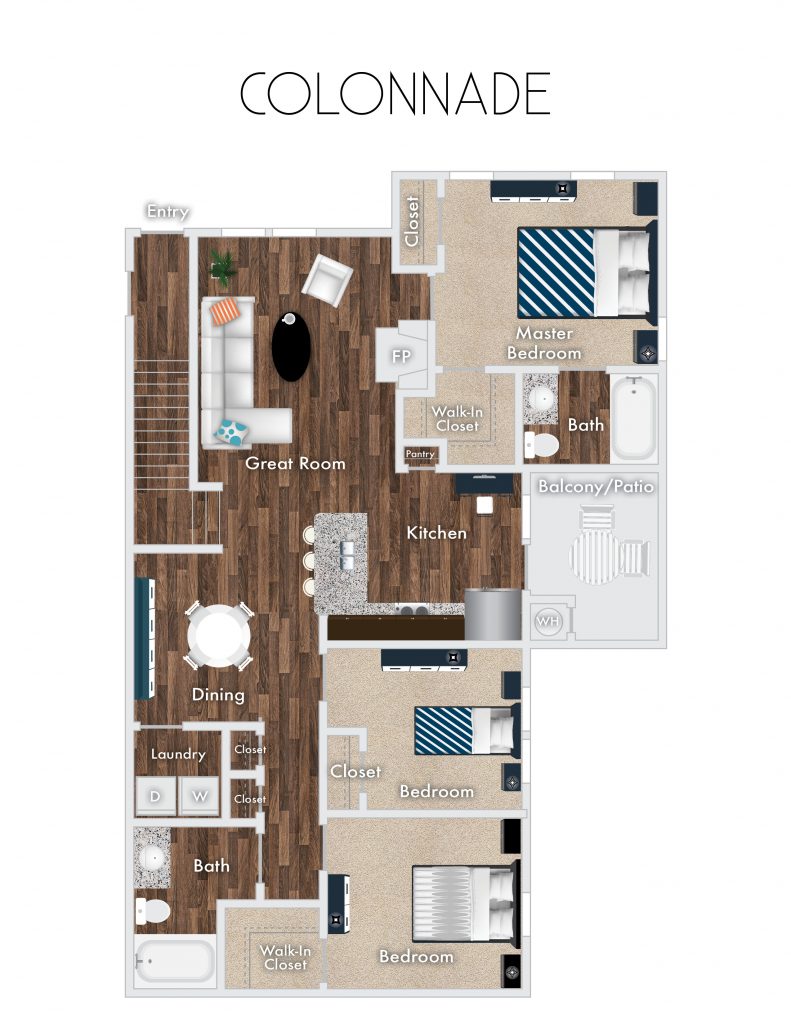 gorgeous views and unending storage space. The two bedrooms inside the Colonnade come with a bonus room, or flex room, designed to give you more space to suit your lifestyle, and all for the price of a two bedroom.
Whether you have a longstanding craft habit, work from home or need a spare bedroom to house your out of town family and friends, the Colonnade offers you a spacious, comfortable solution. Designed with an adjoining closet, the flex room is tucked neatly toward the back of the apartment for perfect use as a workout room, home office, den or whatever you need it to be.
If you've always needed an extra room for storage, your fitness habit or just to create a private space of your own, you'll have it all with the Colonnade's convenient and comfortable flex room, and it won't cost you more in rent. Here are a few ways that we recommend you put the flex room to good use after you sign your lease. Call us today to ask us about our rates on our two-bedroom with a flex room apartment floorplans.
Spare Bedroom
Convert your flex room into a spare bedroom, perfect for visiting family or friends. Your guests can rest comfortably and privately in their own bedroom, and you can continue to use the adjoining closet to store holiday decor, seasonal clothing and bedding or childhood memorabilia.
Workout Room
While you can always turn to our 24 hour fitness studio to get your sweat on, we understand that some fitness fanatics and yoga buffs prefer to work out in the privacy of their own home. Turn your flex room into a private workout room for stretching, lifting, sweating and running. You can easily store equipment, yoga mats and workout gear in the adjoining closet, and have enough room to sweat and stretch in your own space. Hang a flat screen TV on the wall to watch while you flex, or pick up a bluetooth speaker for your phone and sweat to your favorite songs.
Den
Many people prefer to use their big, bright living room for relaxing with a good book, music or company, and the idea of a TV looming over their space isn't desirable. The flex room makes for a perfect den or TV room, so that you can separate yourself and your loved ones from the constant imposition of screen time. Move a comfy couch and chairs, a coffee table and a flat screen TV into your flex room to make a perfect den space. Use the adjoining closet to store throw blankets, seasonal decor and holiday decorations, and free up your traditional living as a space for connection and quiet relaxation.
Craft Room
Crafting and creating require space for storing materials and cultivating inspiration, and your flex room makes for an ideal space for crafty folks to do what they love. Store materials, equipment and incomplete projects in the adjoining closet, and set up a table and chairs, your loom, sewing machine or drawing desk with everything you need to create. Decorate the room with items that inspire you and help to ignite your creativity, and enjoy a private space to help you realize your artistic dreams.
Home Office
Whether you work from home, or like to keep your finances and paperwork carefully and meticulously organized, you'll appreciate converting your flex room to a neat and tidy home office with everything in its place. Set up a desk and comfortable chair, as well as a couch and coffee table for relaxing on after long telecons. Store files, paperwork or office supplies in your adjoining closet, and give yourself room to work at your own pace in your very own space.